Applying for a home loan isn't a walk in the park for most first home buyers, especially when you're dealing with low deposit, low income, and even insufficient documentation or requirements.
These will hinder you from progressing towards your homeownership goals, so it's best to prepare and make adjustments early on. Set aside more money towards your savings, improve your credit score to impress lenders, and practise good money habits in preparation for the repayments you need to make once you've successfully applied for a home loan.
It would also be helpful to understand average home loan sizes, as they are an indicator of a changing property market, including house prices, government policies and grants available, housing trends, growth, and potential risks.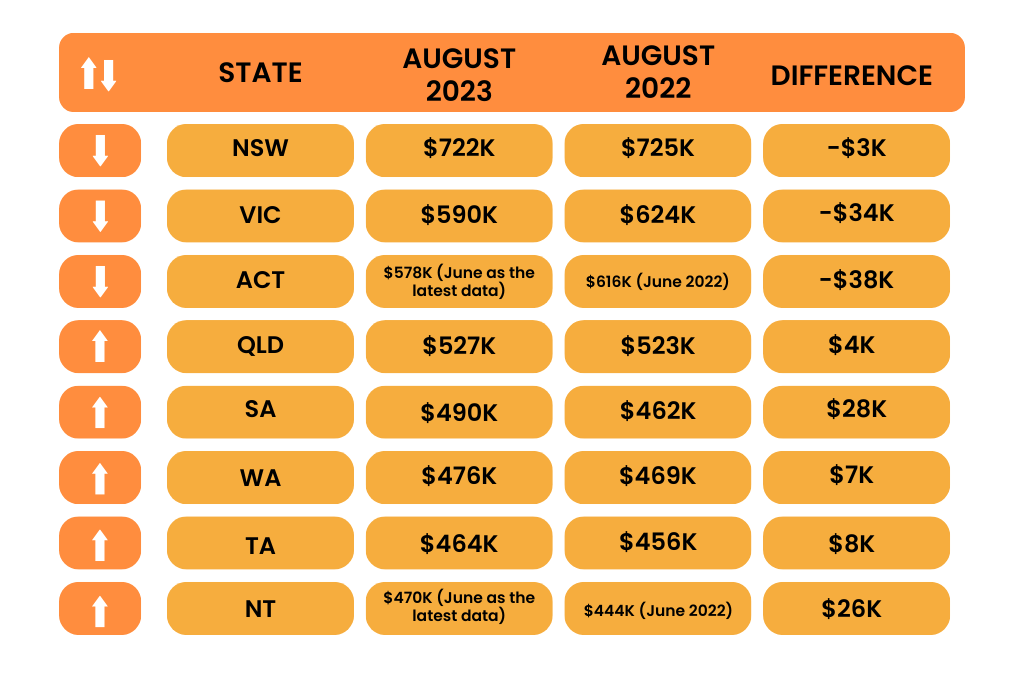 While NSW, VIC, and ACT remain the states with the biggest home loan sizes, it is worth noting that the amount of loans in these locations has dropped compared to last year.
Either we're seeing lower property prices during the period, or home buyers are able to put down a much larger deposit.
On the other hand, the rest of the other states are showing higher home loan sizes. This could be an indication of property growth, meaning home buyers are enthusiastic to buy, and there is enough supply to satiate the market's demand.
Overall, the average home loan size in Australia as of August 2023 is $585K versus $589K in August 2022.
How much would your mortgage repayments be?
Now that you have an idea of the average home loan size in the state where you plan to buy a house, what does that mean for you and your monthly outgoings?
As mentioned above, it is helpful to understand your potential repayments. Find out if you can afford to make this commitment given your current financial situation because defaulting on your repayments means possibly losing your home as it can be repossessed by the bank.
If you want to learn more about repayments and how to calculate your own home loan repayments, you can use Lendstreet's repayments calculator here.
Here's a simple illustration of how much the repayments is going to be for a home buyer who will be purchasing a home in NSW:

Here is another sample illustration of the monthly repayments of a home buyer from QLD:

The numbers above offer an understanding of the financial commitment involved when taking out a home loan in the state where you want to buy. Factor them into your monthly budget and ask yourself if this is a responsibility you can sustain monthly for several years.
Lendstreet: Your Strategic Partner in Finding a Suitable First Home Buyer Loan
Interest rates are a huge factor in determining your repayments. As a first home buyer, you need a strategic mortgage broker by your side to help you find a well-suited home loan for your specific lending needs. Finding the best rates should be your trusted mortgage broker's top priority, along with recommending home loan features and deals that will benefit you.
If you are planning to buy your first home and want to receive a sample illustration of repayments based on actual and prevailing interest rates from banks and lenders, you can contact us here. Meanwhile, we offer a free 20-minute mortgage consultation service directly provided by our lead mortgage broker. Choose your preferred schedule by visiting this link.
Related articles
Homeownership is a long, challenging, and expensive road, along which you'll encounter expenses such as stamp duty, land tax, ...

With the Australian real estate market taking a hit in 2022 thanks to increasing mortgage rates, buying a house ...

Buying your first home is an exciting time and a significant milestone in your life. However, navigating the purchasing ...