Construction and Renovation Home Loans Sydney
For some people, their perfect home is one that they have designed and built on their own.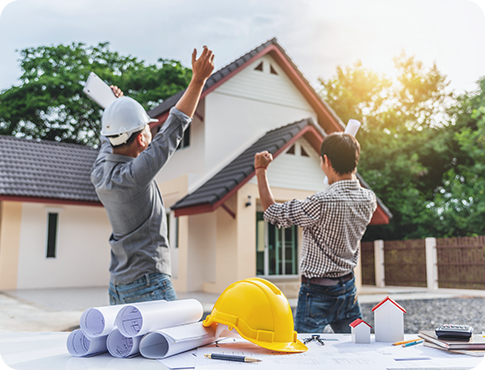 Most of the time, homeowners start by planning to spend out of pocket for their "builder's dream" or "renovator's dream". But in many cases, getting a construction home loan is the better financing option as it prevents you from risking your savings, investments, or even emergency funds.
A construction home loan is a solution for those building their home from the ground up or doing major structural work on their existing property. In a construction home loan, you receive instalments of the loaned amount as you progress at every stage of the construction project and not in a lump sum at the beginning. Tricky? A construction home loan differs from a traditional one, so it often requires more work for those seeking approval.
How do construction loans work?
With a construction home loan, you still have the fixed rate and variable rate options, but the primary benefit of this loan type is that you will be charged interest only on the amount the lender has paid out to you so far. Only when the whole loaned amount has been released, which also means the completion of your home, will your loan revert to a standard variable home loan.
A construction home loan is available to owner-builders and registered builders. It is crucial to identify and agree on the project's development stages with your lender so that the "progressive draw-down" or when the progress payments will be made is evident at the onset. This varies from lender to lender, but most usually follow a five-stage schedule:
Slab

Frame

Lockup

Fitout

Completion
Your builder, architect, council, surveyors, and other contractors are all a part of your new home construction. As such, for the approval of a construction home loan, you may be required to provide additional documentation. Further terms and conditions may also apply if you are an owner-builder.
| Advantage | Disadvantage |
| --- | --- |
| Funds will be paid to you in draw-downs, ensuring you only pay interest on the portion of the mortgage you have used. | The maximum loan-to-value ratio will be 50% if you're an owner-builder. |
| Option to make interest-only payments for the land portion before and during construction. | Funds are released only at predetermined stages after proof of work has been established. |
| You have up to 24 months to complete construction after the settlement of the land, giving you a chance to plan things out. | There may be some additional terms and conditions, including having council-approved plans and a fixed-price tender at the time of application. |
| The loan may be split between two accounts after construction is completed to identify personal and investment debt. | |
What happens when construction is complete?
The best time in this entire process is settling into your new home. Once you have finished construction, you will now be able to move into your dream home. Your mortgage broker at Lendstreet will continue being there for you by doing regular check-ins to determine if your home loan has worked for you. We are determined to make everything run smoothly regarding lending so you can enjoy your newly built home. Overall, this should be a joyous time for you and your family.
If you want to start this process, all you need to do is complete this form, and we will reach out to you so that we can discuss your needs in more depth. We look forward to embarking on this new journey with you.
Frequently Asked Questions
How does a construction home loan differ from a traditional one?
A standard home loan will charge you interest on the total loan amount. A construction will divide your loan into the different stages of the building process — it will provide you with funds in instalments as construction progresses, rather than giving you a lump sum at the beginning or from the settlement. As such, you're only charged interest on the amount given to you by the lender at any stage of the process rather than all at once.
Am I eligible for a construction home loan?
That depends! The process is a bit different when compared to a regular home loan. Owner builders and commercial buildings are eligible, and you must be able to provide the needed requirements. If you're considering a construction home loan, it is best to get pre-approval first. Then, reach out to your construction loan specialists. At Lendstreet, we'll help you with the whole process. Bring us your documents, budget, and plan, and we'll do our best to ensure you get approved for your construction or renovation home loan.
How often are funds released?
Funds are released in stages as the construction progresses. The stages usually follow a five-stage schedule:
Slab — when the foundation is laid.

Frame — when the support structure is established, walls are erected, roofs are framed, and gutting and conduits are made.

Lockup — when windows, doors, and final walls are installed. 

Fit-out — when plumbing, lights, electricity, and other fixtures are installed. 

Completion — when painting and detailing are done, after which you'll be ready to move in. 
Sometimes there is an additional sixth stage at the start, which is the clearing of the site.
You should receive funds throughout the progression of each stage.
Can interest-only payments be made during the construction process?
Yes — before and during construction, you can make interest-only payments. Even better, you only have to pay interest on the portion of the loan you have actually used.
Could I use a home loan top-up instead of the construction option?
If you own a property and have equity in it, you may be eligible to increase your home loan without needing to use your to-be-constructed property as collateral. Additionally, you may be able to augment your loan using the equity you have in other investment properties or your land.
However, there is a potential drawback to using a home loan top-up for construction: you will need to fully draw down your home loan from the outset. In contrast to the construction option, which only incurs interest on the amount you have withdrawn, a top-up loan will entail interest on the entire loan from the beginning.
If you possess a 100% offset account, you may transfer any unused construction funds to offset the interest payments, but additional fees may be involved. It is advisable to speak with your mortgage broker to identify the optimal solution based on your individual circumstances.
What do I need for a construction or renovation loan?
Before you apply, you should ensure you have all the required documentation and evidence. Some of the documents you may need include the following:
Regular loan documents like identification, proof of income and employment, assets and liabilities

A signed builder's contract and insurance

A copy of the contractor license

A Quantity Surveyor Report

Council-approved plans for construction or renovation

An estimated market value of the loan
In some cases, you may need additional documentation from the builder, architect, council, surveyors, and other involved contractors before your construction home loan can be approved. But don't worry — at Lendstreet, we can provide expert advice and guidance to help you through this complex process.
Thousands of home loans from our lending partners