Refinance Mortgage Broker Sydney
Our financial goals can change over time due to changing personal circumstances. Comparing different home loans is a good way to see other deals in the market.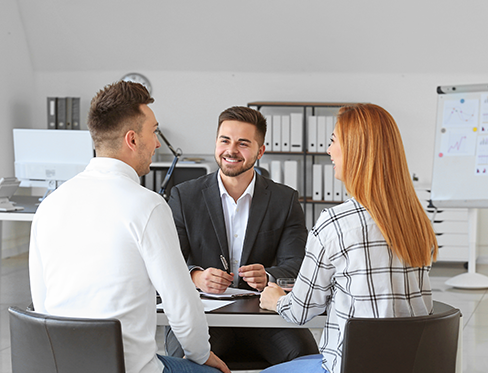 Make a Fresh Start in 2023 with Home Loan Refinancing
Whether you're looking to free up equity, consolidate loans, or you're stuck in a rut with your current lender, refinancing your home loan with Lendstreet's team of mortgage brokers can help you find the best refinancing deal for your unique circumstances.
Let's face it, our financial goals and financial situation changes over time. If you're in the midst of a 30-year lease, there's a good chance that your financial situation has changed significantly since you locked in your mortgage.
This usually prompts most borrowers to re-evaluate their current home loan to secure a better deal or access additional loan features that have now become available.
Comparing different home loans is a good way to see other deals in the market. If you are able to find another loan that matches your current needs, you can consider refinancing.
What is Home Loan Refinancing?
Refinancing your home loan simply means taking out a new home loan with a different lender to replace your current home loan. This means switching from your current lender (the bank or financial institution that put up the money for your house) to a new lender who then pays off your existing mortgage.
Once your new lender has paid off your existing mortgage, you'll then begin paying off your new mortgage with your new lender, and you'll no longer be tied to your old one. Whether you're refinancing to lower your monthly mortgage payments, pay off your mortgage faster, or you just want to take some cash out of your equity, refinancing can be a good option.
Run the Numbers for Yourself
Enter your mortgage details below see what you may be eligible for with our free online refinancing calculator.
What are the Reasons to Refinance Your Home Loan?
Some of the most common reasons why someone may choose to refinance their home loan include
Access better interest rates:
Depending on your current financial circumstances, you may be able to make larger repayments each month, and you might have a better credit score which can mean lower interest rates. Refinancing a home loan helps you take advantage of these changes.
Access to more lending options:
We work with multiple lenders, and we don't have allegiances or special handshakes with any of them. We'll shop your home loan to different lenders and present you with the best option for your unique financial circumstances. Our allegiance is to our customers (like you) not to the banks.
More flexibility in your home loan:
Home loans often come with different add-on features. For example, a redraw facility allows you to access extra payments that you've made on your loan. If you paid an extra $1,000 over a year towards your home loan, then you could access it in the future if you need extra cash. If you think this would be useful but your current lender doesn't offer it, then refinancing can help you switch to a lender that does.
Consolidate debts into a single mortgage:
If you're looking to consolidate your debts, then you can refinance them into your home loan to make them easier to manage. This is great for consolidating personal loans, credit cards, and even car loans.
Access equity in your home:
Equity is the difference between your property value and how much you owe on your home loan. By refinancing your home, you could access your home equity to pay for an emergency expense or fund another investment project.
Frequently Asked Questions
Some of the most common reasons why someone may choose to refinance their home loan include:
How long does it take to refinance your home loan?
From start to finish, the average time to refinance your home loan in Australia is 4-8 weeks.
If you refinance your home with the same lender, then the process is generally faster because they will already have access to the requisite documents and your payment history. If you refinance with a new lender, then the process typically takes a bit longer because you'll need to submit all of your documents and financial information for assessment.
Once our team has assessed your options with different lenders, we will be able to provide a more accurate timeframe depending on the lender that you choose to move ahead with. Some lenders are faster than others, and our experience means that we can provide you with fairly accurate timeframes based on our previous interaction with your chosen lender.
What are the benefits of refinancing through a mortgage broker?
Refinancing through a home loan offers many of the same benefits that you get when you finance your home with a mortgage broker the first time around.
Some of the key benefits of refinancing your home with a mortgage broker include:
Guidance & expertise: Refinancing your home loan can be a headache. Shopping multiple lenders and navigating the terms and conditions associated with each is a minefield. With a mortgage broker in your corner, you won't need to worry about the hidden T&Cs in the contract. Instead, our team will do the run around for you and present you with your options in clear, easy-to-understand terms.
Better rates: Because we spend all of our time and energy finding the best rate mortgage deals, we can usually negotiate better terms and secure the best deal.
Time saving: Perhaps the number one reason to go through a mortgage broker – time saving. Our team does all of the legwork, from finding the right lender, to submitting your documentation and following up on loan application status throughout the process.
Does refinancing affect my credit score?
Potentially, but it really depends on your circumstances and your reason for refinancing.
If you are refinancing because you are unable to meet your monthly repayments, it is different to refinancing because you simply want a better rate or to pay off your debt sooner.
When you apply for a new loan in Australia, the lender will typically conduct a credit check which can result in what is called a "hard enquiry" on your credit report. Hard enquiries can have a negative impact on your credit score, particularly when you have a lot of them over a short period of time.
We do our best to minimise these checks by presenting a short list of lending options. With that said, if you continue to meet your payment obligations on time, the impact of one or two credit checks will be negligible in the scheme of the potential savings. Over time, the lower interest rate improved through refinancing can actually help to improve your credit score and make it easier to meet your payments on time.
Are there restrictions on how I can use the money from refinancing?
The money that you get from refinancing can be used for any purpose. With that said, taking on a new mortgage may come with different terms and conditions than your original loan. Depending on your lender, there may be some restrictions on how refinancing can be used. These usually relate to using the money to pay off debt of for home improvements.
How common is home loan refinancing in Australia?
In simple terms – a lot.
Aussies are refinancing their home loans in record numbers. The latest data from Australia's digital property settlement program PEXA shows that 364,000 Australian's refinanced their home during 2021 – around 28% higher than the same period in 2020. Given Australia's historically low interest rates during this time, it should come as little surprise.
However, even over the last 18-months we have seen a large number of Australia's refinancing their home loans to claim equity and free up cash.
Should I refinance my home?
It really depends. Because we are mortgage brokers, we don't have any allegiance to the big banks or different lenders. If we think that we can secure you a better deal or help you to access the equity that you need through refinancing, then we'll be the first to let you know. If we think that you should stay put in your current loan, then we'll tell you – it really is that simple. Have a chat with our team, we'll assess your unique financial situation and provide honest, upfront advice so that you can make an informed decision.
Thousands of home loans from our lending partners