Second Home Mortgage Loans
Next home buying can sometimes be different and more challenging than your first home buying experience.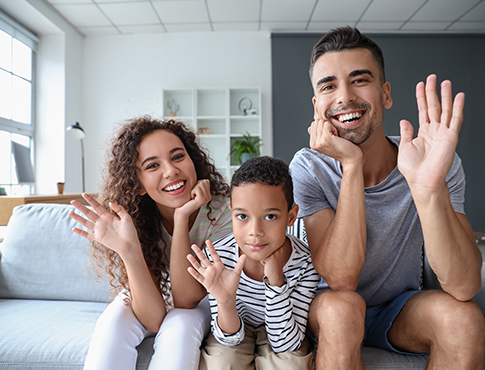 Buying your next home can sometimes be different and more challenging than your first home buying experience.
Moving homes is all about starting that next, new chapter in your life. While buying your next home can be extremely stressful, there is no need for it to be. Yet another step for you to expand your property portfolio, we're here to make this process as seamless as possible. Instead of worrying on your own about finding the right mortgage, we simplify the process by providing the most helpful resources and information to get you started.
We're here to find the correct mortgage for your new home.
Our goal is to simplify the process of you finding the correct mortgage for your new, second home. Everything starts from a simple discovery call. This will help us get to know you and your needs better. As we want you to be at the centre of everything we do, the discovery call will also be an opportunity for us to start collecting all the information we need to shop around for the best home loan options for your next home purchase. In some cases, that may mean staying with your current bank, while for others, this may mean finding an entirely new loan product from a different lender.
Despite what you're hearing from the big banks, there are truly ample opportunities, and we will be there to guide you through every step of the way when it comes to finding the funds for your new home. We will be your trusted advisors in helping you to decide which path you should follow for your new home to become a reality. Our specialist Sydney mortgage broking team has years of experience in guiding home buyers through mortgage home loans in Australia. We have all the tools in our arsenal to help you find the option that best suits you and the homebuying track you are currently on.
Be the centre of every single step of the process.
What is important is that you will be at the centre of every single step of the process. This means that as soon as we have done research and analysis of your situation, we will come back to you with all the personalised offers that are available on the market. This means that you will get access to over 50 lenders and over a thousand loan products for your next home purchase. If you are applying for a home loan, that is the most important part of the process, as shopping around and comparing is often where you'll find the most suitable option.
Finding the right solution today will only make the entire process easier and help you save a lot of money down the line. Sounds like a lot of work, right? No need to worry, as we'll do all the leg work in comparing and narrowing down your options and only suggest the best options for your needs. We are a results-oriented company – our team will be focused on one thing and one thing only: getting you the solution that will allow you to fulfil all of your needs and have a home loan that fits your lifestyle.
"We focus on getting you the solution that will allow you to fulfil all of your needs and have a home loan that fits your lifestyle and preferences."
But our work does not stop there. Once we have found the loan option that you are most interested in, we will help you with the completion of all of the necessary paperwork as well as, with the submission of your application. We will also be there to advise you and to explain every single detail – and believe us, there's a lot to consider when it comes to buying your next home. When getting a mortgage, there are many little details that you need to be aware of, like the varying fees, terms and conditions, stamp duties, and legal procedures. Negotiating the best possible terms is also a part of what our expert team will assist you with. This is because, through our many years of experience, we have gathered tips and tricks on how to take advantage of available discounts or loan product features offered by many banks and lenders.
Let Lendstreet do the work, so you can just sit back and dream about your new home.
If you are looking for the best mortgage home loan, then using our expert team of mortgage brokers will surely leave you satisfied as the process of finding, qualifying, and negotiating your mortgage will become that much simpler for you. Let Lendstreet do the work so you can just sit back and dream about your new next home, which will soon become a reality with some of the best mortgage rates available.
Frequently Asked Questions
What is a second home mortgage loan?
Put simply, a second home mortgage loan is a loan that is used to purchase your next home, or a supplementary home. This could be a move to a new house, a vacation home to spend the summer, or an investment property. Regardless, it has a different set of requirements, new challenges, and a different process compared to purchasing your first home.
Despite these additional challenges, buying your next home doesn't need to be a daunting or debilitating process. Once we understand your personal circumstances, your options, and your goals, Lendstreet can help you get the new home you really want without additional stress.
At Lendstreet, our mission is to make this process as easy as possible for you and to find the correct mortgage for your new home. So, if you're unsure at all, make sure to reach out to our trusted advisors, and we can guide you on the path to turning your dream home into a reality.
Do I qualify for a second home mortgage loan?
There is a variety of elements to consider when determining if you qualify for a second home mortgage or not. Here are some of the most important considerations:
Your credit score
Your household income and debt-to-income ratio
Ability to make a substantial down payment
Payment history on your first mortgage
Of course, there is a variety of other factors to consider, and every individual situation is different. Therefore, we suggest speaking to an expert to help fully understand your circumstances and what your options are. Our expert team of mortgage brokers in Sydney are here to help in this process, as well as finding, qualifying, and negotiating your mortgage.
Why would someone want a second home mortgage?
One of the main reasons that people will take out a second mortgage loan is when they are moving house. Once a family (or an individual) is looking to move from a home that they currently own to a new one, they are now applying for a second home mortgage loan or a next home mortgage loan. They are no longer a first-time buyer, and therefore they are not eligible for the benefits that come with that.
Another common reason to take out a second home mortgage is to purchase a vacation home or investment property. Taking out a second mortgage has a lot of benefits for homeowners who can afford to do it. A second mortgage allows the homeowner to tap into the equity they have already built up and to provide a source of income in multiple ways. For example, if you are looking to invest in a new property, pay off high-interest debt, or invest in a new venture, a second mortgage can provide the financing you need.
Where can I get a second mortgage loan in Australia?
Second mortgage loans are available through a variety of lending institutions, including banks, credit unions, and mortgage brokers. At Lendstreet Mortgage Brokers, we work with the best institutions in Australia to find the perfect mortgage solution for you.
Our team of experts will work with you to determine your capabilities in terms of income, equity, and credit score. Along with your goals, we will consider all of this to find, qualify, and negotiate your mortgage, meaning less stress for you. With a true understanding of the property market and lending process, we can help you to land your dream home.
Do I need to pay stamp duty again?
Yes – stamp duty is a mandatory tax component that you'll need to pay on all property title transactions and transfers. So, with every home that you purchase, you will need to pay stamp duty again. There may be exemptions for groups with specific circumstances and those eligible for exemptions – but generally, as you will not be classified as a first home buyer when you're purchasing your second home, stamp duty will be payable.
In NSW, you must pay stamp duty within three months of signing the contract of sale or transfer. For residential units off the plan, this is extended to 12 months following signing the contract.
What is a bridging loan?
A bridging loan refers to a short-term loan that can help you to bridge the gap between the purchase of a new home and selling your existing property. Generally, a bridging loan will cover the time between purchasing the new property and settling the sale of your current home (usually up to 12 months). A bridging loan is a great way to get your circumstances in order for your new home when you have not yet found the right buyer for your current property – if you'd like to learn more about getting a bridge loan to support the purchase of your second home, get in touch with the experts at Lendstreet today.
What is a deposit guarantee?
A deposit guarantee, also known as a deposit bond, is an insurance policy to guarantee that you will pay the deposit at the settlement of sale. A deposit guarantee can be used instead of a cash deposit, to speed up the process, and delay the payment of cash deposit until settlement. It also provides the vendor with assurance and protection that the deposit will be paid at settlement.
Thousands of home loans from our lending partners