Low Doc Home Loans Sydney
Self-employed Australians have access to a unique type of low documentation loan that makes homeownership more accessible.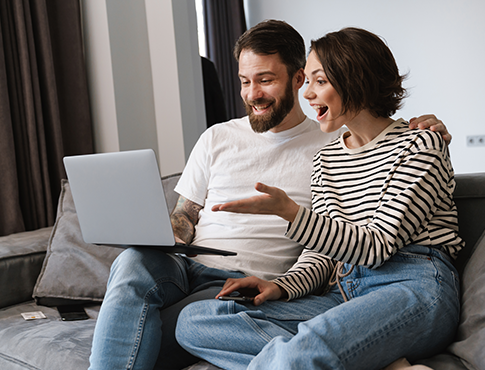 Some documentation requirements for home loans can often feel like a deterrent for self-employed people. With the assistance of Lendstreet's expert brokers, you will make your new home a reality much faster with the right low doc home loan product.
What Is a Low Doc Home Loan?
Low documentation home loans, often shortened to low doc loans, acquired their name because of their lower documentation requirements, especially when compared to traditional loans. Oftentimes, eligibility for these home loans may also be acquired through the provision of alternative documents, which is why they are also referred to as alt-doc loans. Lendstreet specialises in finding low doc loan products for self-employed individuals, freelancers, and business owners who may not have access to documents like payslips, PAYG payment summaries, and group certificates.
Low doc home loans often rely on self-verification of income and in place of payslips, may require supporting letters from an accountant as well as your recent bank statements. Provision of your Business Activity Statements (BAS) for previous years may also be required.
Lendstreet's expert mortgage brokers can help self-employed individuals successfully apply for low doc loan products. We'll ensure your application and documents are as solid as possible to increase your chances of securing a suitable low doc home loan.
Who are low doc home loans for?
Low doc home loans are for people who have both the income and assets to purchase a home but do not have the traditional financial documents that are required for a mortgage. Lendstreet's mortgage brokers can help a wide range of individuals with low doc home loans, including:
Self-employed freelancers
Small business owners or sole traders
Investors who rely on their investment income
Contract workers
Casual workers
Seasonal workers
Or other ABN holders that fail to meet the required documentation for a loan application
To be eligible for a low doc home loan, you will normally need to have a good credit history as lenders will want proof of your ability to afford the repayment plan for your loan. Your eligibility will be improved by good credit history, and the lender will want to know that you can afford repayments. However, do not be discouraged if you think you have bad credit — speak to Lendstreet's professional mortgage brokers on how you should approach your home loan application. You can also consult a credit repair specialist to improve your credit score.
While there are many reasons to use a low doc home loan, the main one is that you cannot prove your actual income in traditional ways. This could be because:
Your tax returns are not up-to-date, or your income has increased since your last tax return
Your tax returns may show large deductions
You have a complex company structure
Part of your income may be distributed to your family members through a trust
If you're self-employed or a sole trader, you will need to keep your financial records as up to date as possible. Your home loan application will not be too different from a traditional one if you do. Typically, you will want to be able to show your last two years of personal and business tax returns and income tax assessments to get a loan. These will be used to determine the amount that you can borrow.
If your documentation is not up to date, some lenders will be willing to allow you to self-certify your income. Oftentimes, your accountant will also need to provide certification of your income to get approved for a loan in this way. If you're unsure of your eligibility for a low doc home loan or want to find a more suitable loan product, contact Lendstreet's mortgage brokers for help and advice.
What do I need to apply?
You'll need to convince the lender that you are a reliable borrower and you have the income required to purchase a home. The most commonly required documents include:
Signed Borrower's Income Declaration Form
A registered business name
Proof of 6 months of ABN and GST registration
Evidence of self-employment within the same industry for at least 12 months
Your Business Activity Statements (BAS) from the
previous year, verified by the Australian Tax Office
Previous bank account statements
Self-certification of income accompanied with a letter from your accountant
Previous year's tax return statement where applicable
Profit and loss statements
other applicable financial documents
For help organising, preparing, and reviewing your documents for a low doc home loan application, consult professional help with Lendstreet's mortgage brokers. We have proven experience in preparing successful low doc home loans.
Increase your chances with Lendstreet's pro mortgage brokers
If you are trying to get approved for low doc home loan, contact an experienced mortgage broker to assist you with all of the documentation that you need. At Lendstreet, our expert mortgage brokers have vast experience with low doc home loans, and we can help you find the perfect loan for your needs. For more information, contact us by filling out our online form.
Frequently Asked Questions
What is an Income Declaration Form?
An Income Declaration Form is an alternative method for lenders to verify the income of self-employed individuals. Typically, each lender will have their own Income Declaration Form for potential borrowers to fill out. On this form, you will need to add your name, business name, business' ABN, and the amount you are looking to borrow. An indication of the repayment plan will also be noted on this form. Apart from this form, some lenders will ask that you verify your assets and liabilities through further documentation.
How can you help me secure a low doc home loan?
Lendstreet's expert mortgage brokers are experienced in helping clients secure home loan products. We'll work closely with you to tailor our expert solutions to your specific financial situation. We'll assist you with gathering the necessary information and documentation. We'll prepare and review documents with you and ensure your application is as strong as possible to give you the best chance of securing a suitable low doc home loan product. We have proven success of finding the best low doc home loans in Sydney, so contact us today to get started.
What are the interest rates for low doc home loans?
The interest rates for low doc home loans, like any loan product, varies depending on the lender and your financial situation. Lendstreet's expert mortgage brokers will work closely with you to find the best rates for you and your property.
What documents do I need for a low doc loan?
Usually, you'll need declaration and proof of income through the following:
BAS Statements
Bank Account Statements
Accountants Declaration
Check with your lender to see if they have additional requirements. If you need help with your low doc loans in Sydney, contact the expert team at Lendstreet.
Is it better to apply for a full doc home loan?
It's true that applying with low documentation makes your application seem higher risk for the lender. So, if you have the necessary documents, applying with full documentation is certainly an advantage.
Are there extra fees for low doc home loans?
While low doc home loans are just like any other loan product, it's true that they may have additional fees associated with them. As low doc home loans are considered high risk by lenders, they may charge additional fees and higher interest rates. When you work with the honest and hardworking mortgage brokers at Lendstreet, you'll stay informed about any additional fees, and you'll be in with the best chance for a successful application with the best low doc home loan rates in Sydney.
Thousands of home loans from our lending partners