Mortgage Broker Newcastle
At Lendstreet, we understand that purchasing a home is one of the most significant decisions you'll ever make, and securing the right mortgage is crucial for your financial well-being.
Our seasoned experts are dedicated to guiding you through the complex mortgage process, ensuring that you receive the best possible loan tailored to your unique needs and circumstances.
As reputable mortgage brokers in Newcastle, our Lendstreet team offers exceptional home loan services with years of extensive experience in the financial industry.
Whether you're a first-time homebuyer, looking to refinance your existing mortgage, or interested in investment properties, Lendstreet offers a wide variety of loan options to suit your needs.
Newcastle's Unique Landscape and Property Market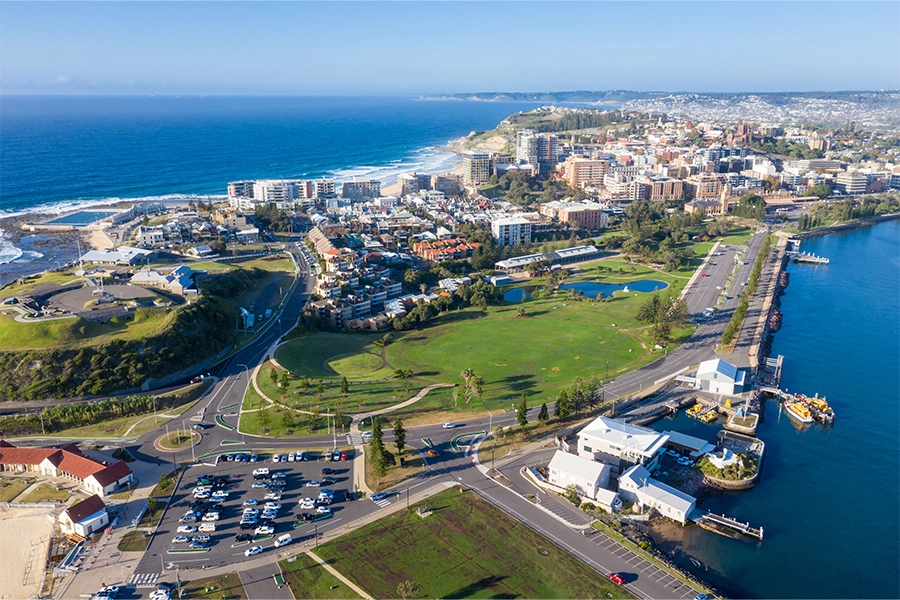 Nestled along the breathtaking coastline of New South Wales, Newcastle boasts stunning beaches, picturesque ocean views, and abundant natural beauty, making it an ideal choice for nature lovers and those seeking a relaxed environment. It's also known as a friendly and welcoming community, making it an excellent place to run a family and build friendships.
Newcastle doesn't just have natural beauty on its side. Its central business district (CBD) has seen massive growth over the past decade, with thriving manufacturing, healthcare, and education industries.
With years of experience in the area, our team has closely followed Newcastle's real estate trends and developments. We have an in-depth understanding of the property market's past, present, and future, allowing us to offer tailored and insightful advice to our clients.
As expert mortgage brokers in Newcastle, we take the time to understand your financial goals and aspirations, guiding you toward the most suitable loan options available.
If you're considering buying a property in Newcastle, don't hesitate to take the next step toward your homeownership dreams. Contact Lendstreet today, and let us navigate the complexities of the mortgage process for you. Our personalised approach ensures a seamless and stress-free experience. Together, we can turn your vision of owning a home in Newcastle into a reality.
Make Sure Your Newcastle Home Loan Gets Approved
As trusted mortgage brokers in Newcastle, Lendstreet is dedicated to maximising your chances of reaching home loan approval. We understand that each individual's financial situation is unique, so we offer various mortgage solutions catering to your financial needs and circumstances.
For first-home buyers in Newcastle, Lendstreet can assist in navigating the complexities of obtaining a home loan, making the process smoother and less stressful. Our expertise in assisting first-home buyers ensures you have the best possible chance of securing your dream home.
Want investment properties in Newcastle? Lendstreet can provide valuable insights into the local property market. Our team can help you find the most suitable investment property loan options and guide you through the process. Explore our investment property loans here.
Lendstreet also caters to borrowers needing low-doc or low-deposit loans, allowing self-employed individuals or those with limited savings to fulfil their homeownership dreams.
For applicants who may require additional support to secure a home loan, Lendstreet offers guarantor loans, providing options to leverage the financial backing of a family member or friend.
No matter what type of loan you need, Lendstreet's adaptability ensures that we work closely with you to understand your financial goals and present suitable options.
Contact Lendstreet, your trusted mortgage broker in Newcastle, to discuss your specific needs and take the first step toward realising your dream of owning a home.

First Home Loans in Newcastle
Looking for first home loans in Newcastle? Lendstreet offers tailored solutions to make your dream of homeownership a reality. Explore our first-home buyer loans.

Refinancing
Considering refinancing in Newcastle? Lendstreet offers expert guidance and customised solutions to help you optimise your mortgage. Learn more here.

Invest in Newcastle
Looking to invest in Newcastle's thriving property market? Lendstreet provides tailored investment property loans to suit your needs. Discover more here.
Why Lendstreet Outperforms the Big Banks
Lendstreet outperforms big banks by offering a personal touch and a tailored approach unmatched in the industry. Unlike banks that often follow rigid processes and standard offerings, Lendstreet, as a mortgage broker, takes the time to understand the unique needs and circumstances of each and every client to provide a personalised experience.
Working with Lendstreet means having a dedicated team of experts who genuinely care about your financial goals. We go the extra mile to explore every mortgage option from lenders, ensuring you receive the most competitive rates and terms available.
With our mortgage brokers in Newcastle, you gain access to a vast network of lenders, giving you more choices and increasing your approval chances. Our personalised approach means we can cater to your unique financial position.
Ultimately, partnering with Lendstreet empowers you to make well-informed decisions about your mortgage, confident that you have a dedicated team working tirelessly to find the best solution for your unique needs.
Experience the Lendstreet difference today and discover why our personalised approach sets us apart from big banks. Contact us here to get started.
What Sets Lendstreet Apart as Newcastle's Prime Mortgage Broker
High Approval Rates Across Newcastle Properties
With a combination of solid relationships with Newcastle lenders, in-depth knowledge of the housing market, and extensive experience in handling applications, Lendstreet has a high approval rating.
Instant Access to More Than 50 Diverse Lenders
With access to over 50 lenders, Lendstreet provides options for different interest rates, loan terms, and features, allowing borrowers to compare and select the most favourable option that aligns with their financial goals.
Thousands of Home Loan Products Available to You
Choose from thousands of home loan products with Lendstreet. As a borrower, you can explore fixed-rate, adjustable-rate mortgages (ARMs), government-backed loans (FHA, VA, USDA), and more.
Get Your Newcastle Home Loan Approved with Lendstreet's Mortgage Brokers
If you want guidance, advice, and a lending hand when it comes to getting your home loan or investment loan approved, skip the bank queue and come straight to Lendstreet, the leading mortgage brokers in Perth.
Working with experienced local mortgage brokers can help improve your chances of being approved, as we can identify and understand your personal situation's intricate and unique aspects. By understanding your personal dynamics upfront, Lendstreet can assist you by sifting through thousands of loan options to match you with the best product for your specific needs.
For first-home buyers in particular, navigating the legal documentation, terminology, and process of lending money for a home purchase can be both confusing and challenging. At Lendstreet, we provide helpful guidance and translate finance and legal terminology into easy-to-understand language, helping you feel in control every step of the way.
We not only source finance options from the big banks and credit unions, but also alternative lenders, offering our customers seeking mortgage brokers in Perth a much broader array of mortgage options:
No matter what type of loan is required, Lendstreet's adaptability means we can tailor a solution for your individual needs and circumstances in the Perth market.
Frequently Asked Questions
What is the role of a Newcastle mortgage broker?
The role of a Newcastle mortgage broker is to act as an intermediary between borrowers seeking mortgage loans and the lenders who offer these loans. As mortgage brokers in Newcastle, we play a crucial role in home buying and refinancing by helping borrowers navigate the complexities of obtaining a mortgage and securing the best possible loan terms.
Can we meet online instead of face-to-face?
Yes, Lendstreet offers both online and in-person meetings. To book an online appointment, contact us here. One of our Lendstreet mortgage brokers in Newcastle will get in touch.
Can your mortgage brokers assist me if my credit score is low?
Yes, because of our large pool of lenders, we can help clients with low credit scores. Some of our lenders provide mortgage options for those with low credit profiles to help you climb the property ladder. Contact our professional mortgage brokers today to assess your options.
What type of home loans do your mortgage brokers assist with in Newcastle?
For those looking to use home loan services in Newcastle, we provide many different types to suit a variety of borrowers. These include first-time buyer loans, refinancing options, investment loans, low doc, and no deposit. This is to give all our clients the best possible chance of securing a loan, no matter their financial situation.
Should I choose a bank or a mortgage broker for my loan?
Choosing a mortgage broker over a bank is the best alternative. Our mortgage brokers in Newcastle work with over 50 lenders, meaning we can offer you a better range of loan products for your needs. Our brokers also negotiate on your behalf to get better rates and terms, potentially saving you money.
Mortgage brokers specialise in home loans and can guide you through the process, especially if you're a first-time homebuyer or have unique financial circumstances. We handle all the paperwork and communication with lenders, saving you time and stress.
What are the charges for using a mortgage broker's services in Newcastle?
The cost of hiring mortgage brokers in the Newcastle area depends on the type of home loan you require and the complexity of the mortgage. Mortgage brokers typically charge a fee in three ways:
Lender-Paid Commission: When a borrower gets a mortgage through a broker, the lender pays a commission to the broker for bringing them business. This commission is typically a percentage of the loan amount. In Newcastle, this is 6% on average.
Lendstreet follows this setup. We do not charge you any fee as we get our commission from lenders.
Borrower-Paid Fees: Mortgage brokers can also charge fees directly to the borrower. These fees vary and include application fees, origination fees, processing fees, and sometimes broker fees.
Combination of Commission and Fees: Mortgage brokers sometimes charge lender-paid commissions and borrower-paid fees. They may receive a commission from the lender and also charge certain fees to the borrower for specific services provided, such as credit checks or loan processing.
Where can I find Lendstreets mortgage brokers in Newcastle?
We are located at 1 Tudor St, Newcastle West, Newcastle 2302. Alternatively, you contact us here to book a virtual meeting.
What advantages are there of using a mortgage broker in Newcastle?
Mortgage brokers are specialists in the home loan market. They understand the nuances of different loan products, interest rates, and eligibility requirements.
A broker can provide valuable guidance and advice, especially for first-time homebuyers or individuals with unique financial circumstances. They can help you understand the terms and conditions of the loans, answer your questions, and guide you through the application process.
What documents are required to apply for a mortgage loan?
When applying for a home loan, you must gather various necessary documents. These include:
Copies of your identification documents. These include a valid passport, driver's licence, or Medicare card.
Proof of income in the form of pay slips or payment summaries, or personal and/or business tax returns for the past two years minimum, including financial statements if self-employed.
Proof of additional sources of income like overtime or bonuses.
Proof of savings, which is shown on bank statements.
Employment contracts.
Statements or documentation for any existing loans, including personal loans, car loans, credit cards, or outstanding debts.
Details of any dependents, including children or elderly family members.
The documents you need depend on your home loan type, and lenders may require more. But don't worry – we'll discuss any documentation you need on our introductory call.
Which lenders are associated with you in Newcastle?
We work with over 50 well-known lenders in Newcastle, including ANZ, Pepper Money, NAB, St George, Westpac, and many more. With Lendstreet, you can choose from thousands of home loans, ensuring you find the right one for your financial circumstances. Find out more about our lenders here.
Choose from thousands of home loans offered by our trusted lending partners