According to the Economist Intelligence Unit's (EIU)Worldwide Cost of Living report last December, Sydney is the tenth most expensive city in the world, with an average house price of $1 million.
Rising interest rates have already affected the Sydney property market, with house prices already falling since the price peak last March 2022. While we don't expect a housing market crash, prices continue to fall throughout the year, and we may see a shift from a seller's to a buyer's market.
If you're looking to invest in Sydney property this year, here is a guide to the predicted 2023 market.
Sydney housing market data, trends, forecasts
The Sydney property market has seen a downturn in 2022 and is set to continue into 2023. Despite this, the Sydney housing market is still the most expensive in Australia, and house prices are expected to bounce back once Australian interest rates have stabilised.
Let's look at the current state of the Sydney property market and the current predictions for 2023.
Will the Sydney property market crash?
If you bought or were interested in Sydney property over 2020 and 2021, you'll likely remember the rapidly rising house prices in the area. As of late 2022 and beyond, Australia's housing market is seeing a downturn, with the Sydney property market dropping by 10.9%. House price falls have been seen across the Australian property market, with Melbourne house prices expected to fall by 10% by the end of 2023.
However, according to experts, this downturn is not a housing market crash. Why?
A housing market crash is defined by a decrease in house prices and a lack of mortgage serviceability, resulting in homeowners being forced to sell and losing significant money on their investment.
However, we don't see this in the Sydney real estate market. There is still a massive demand for property, with high rental rates and an influx of potential buyers.
Sydney housing prices
House prices are falling in Sydney and other major Australian cities due to rising interest rates caused by the rising RBA cash rate. If the RBA cash rate rises halt in 2023, the housing market will likely stabilise.
Below is a chart showcasing how Sydney property values are affected by RBA cash rate rises.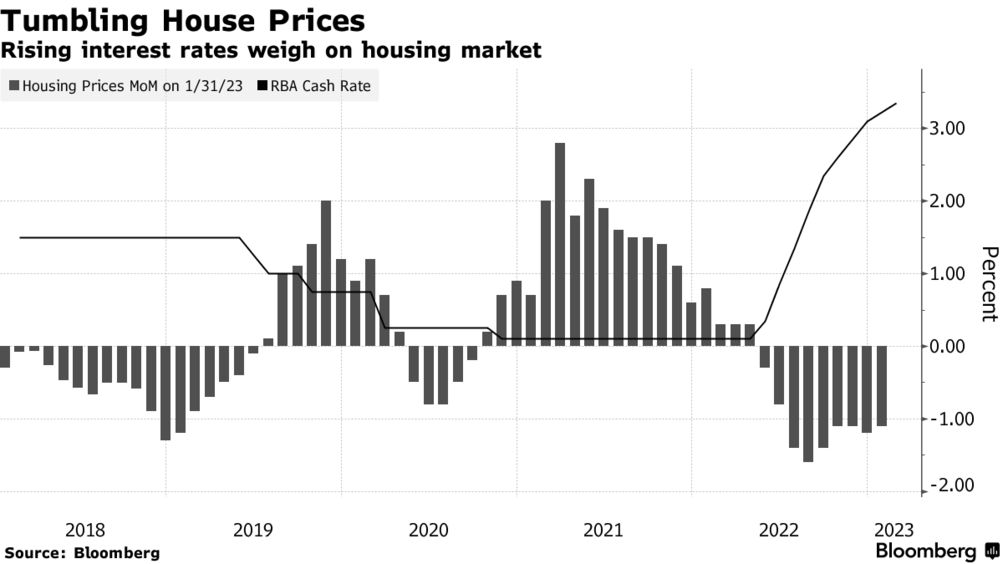 Top 10 most expensive Sydney suburbs in 2023
Despite the Sydney property market price falls, many suburbs still thrive in 2023. Here are the top 10 Sydney suburbs with the highest property values.
Darling Point — average house prices, $10,350,000.

Bellevue Hill — average house prices, $8,750,000.

Vaucluse — average house prices, $9,000,000.

Tamarama — average house prices, $9,200,000.

Double Bay — average house prices, $6,375,000.

Cremorne Point — average house prices, $5,648,500.

Centennial Park — average house prices, $5,010,000.

Dover Heights — average house prices, $6,500,000.

Mosman — average house prices, $5,250,000.

Longueville — average house prices, $6,400,000.
Top 5 Sydney suburbs for first home buyers in 2023
Despite Sydney house prices being some of the world's most expensive, some suburbs are suitable for first home buyers with more affordable property prices. Because of the downturn in Sydney's property market, property prices could reduce further into 2023.
Bradbury, average house prices: $777,500.

Ashcroft, median house price: $810,000.

Doonside, median house price: $850,000.

Kingswood, median housing values: $864,000.

St Marys, median housing values: $865,000.
Average unit prices in Sydney for 2023
Units offer a more affordable form of housing for those invested in the Sydney property market. While unit prices have fallen in 2023, they're expected to decrease steadily compared to Sydney houses.
Sydney's median unit prices declined by 1.2% in December 2022 to $770,000, and are expected to fall further in 2023. However, not as far as experts first predicted, thanks to an increased demand for units. This is partially due to the rise in Australian immigration, increased investor demand and activity, and interest from first time buyers looking to invest in a property while prices are falling.
Houses vs apartments in Sydney's property market: Which is better?
So, are you better off buying a house or a unit in the Sydney property market?
It depends entirely on your needs and budget. While house prices falling is a good incentive for buying a Sydney home, unit prices will always be lower – around $200,000 less in Sydney alone.
If you're already on the property ladder and value having a spacious home, then we would recommend buying a Sydney house. However, if you're a first time buyer looking to get your foot on the property ladder, opt for a Sydney unit – at around $200,000 cheaper, you'll have a better chance of finding affordable apartments.
The future of Sydney's housing market
The future of Sydney's housing market depends on the state of the Australian economy, with the RBA cash rate currently sitting at 3.6% but is expected to come to a halt later this year.
Increasing interest rates directly impact property prices since borrowing conditions become tighter, and fewer people invest in houses. If the RBA cash rate continues to hike, Sydney property values will fall further.
However, falling house prices do not mean the Sydney property market is set to crash. Instead, this is more of a house market correction – since house prices rose by over 27% between October 2020 and January 2022.
Interested in Sydney property? Let Lendstreet help you!
At Lendstreet, we understand the intricacies of the Sydney property market and are ready to advise you on your next property purchase. We offer a range of loans to suit house buyers, from first home buyers to investors.
If you're ready to buy a Sydney property, contact Lendstreet today and find your next home. Alternatively, book a free consultation here or email us at support@lendstreet.com.au.
FAQs
How far will interest rates climb?
The RBA cash rate climbed significantly in 2022 and has reached 3.6% as of March 2023. Experts predict that the cash rate won't go any higher than 3.6% this year.
Will the Australian property market crash in 2023?
No, it's unlikely that the Australian property market will crash due to housing demand. However, prices will continue to fall throughout the year.
What are the average property prices in Sydney?
The average property price in Sydney is currently $1 million.
Related articles
Attention homeowners: the Reserve Bank of Australia (RBA) has recently decided to maintain the cash rate target at 4.10 ...

The Reserve Bank of Australia (RBA) has announced that it will keep the official cash rate unchanged at 3.6%, ...

Australia's house prices are among the highest on record, with the Melbourne property market the fifth least affordable worldwide. Will ...