Mortgage Broker Adelaide
At Lendstreet, our trusted mortgage brokers can help you find the best home loan solutions. We understand that everyone has unique financial needs, and so it's important to secure a mortgage that saves you from future stress.
Lendstreet offers personalised loans tailored to your budget, along with guidance on completing paperwork and negotiating loan product features to make your dream home even better.
Being well-established mortgage brokers in Adelaide, we provide easy home loan facilitation through exceptional communication and years of financial industry experience.
So, are you eager to buy your first home, refinance your current mortgage, or invest in other properties? Discover what home loans Lendstreet has to offer in Adelaide and how our local expert advice can meet your buying needs.
Crafting Personalised Home Loan Solutions in Adelaide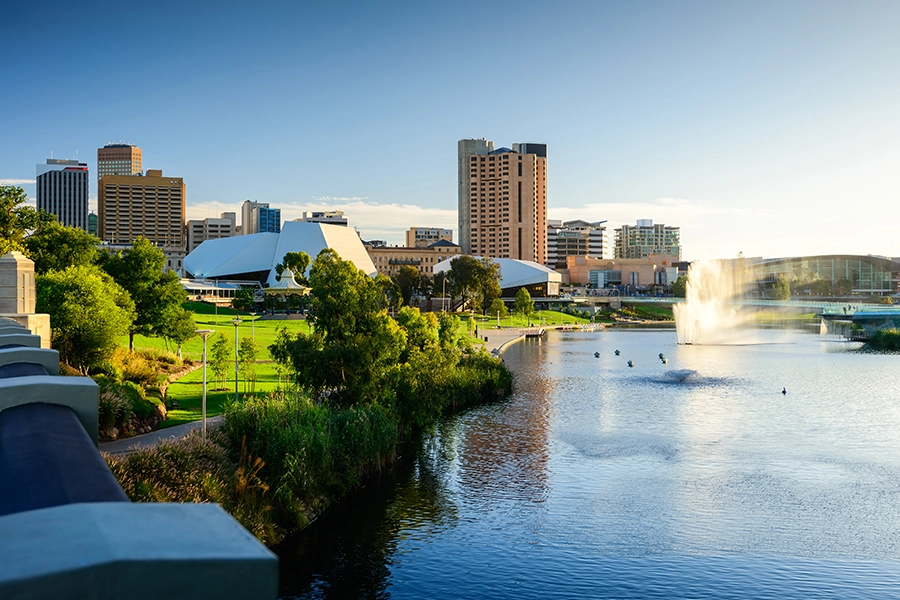 Adelaide is a stunning city home to renowned museums and bustling bars. Those seeking an outgoing lifestyle would choose this location as a home, with the added bonus of world-class art and festivals that hearten the streets. While these visuals may seem favourable, the property market takes the cake.
Our team at Lendstreet follows the trends and developments in Adelaide's housing market. This research helps us to build personalised advice for clients, including the best home loan options suited to their financial needs.
Lendstreet also offers various types of home loans, whether that's for buying your first home or investing in valuable properties. Our mortgage brokers in Adelaide can speed up the financial process to ensure you're comfortable with your home or property.
Are you self-employed and need more support? We offer low doc loans and low-deposit loans for those with minimal deposits to achieve their homeowner dreams. Lendstreet wants everyone to have the same thrilling experience, making guarantor loans perfect for individuals who also require support for repayments.
Contact Lendstreet to speak with reputable mortgage brokers in Adelaide. With our advice and personalised plan, you can walk through the doors of your dream home in no time.

First home mortgages
Looking for your first home in Adelaide? Lendstreet creates a personalised approach tailored to your preferences and financial needs. Take a big leap to your dream homeownership with our first-home buyer loans.

Refinance your Adelaide house
Interested in replacing your current mortgage in Adelaide? Lendstreet can provide better mortgage deals and reduce the refinancing process. Discover more about refinancing here.

Why not invest in Adelaide?
Do you want to invest in the Adelaide housing market? Lendstreet has all the advice you need to finance a property purchase. Learn about how our investment process works here.
Ditch The Bank: They Don't Love You
Lendstreet understands that traditional banking experiences won't offer a personalised approach. Most of the time, banks use fewer loan options, provide standard advice, and have stricter credit requirements, making your home-buying experience process longer. Therefore, our mortgage brokers in Adelaide will always focus on the personal touch first to cater to your financial needs.
By working with Lendstreet, you will gain expert advice from our team of professionals. We care about your future, meaning every mortgage option won't be left unexplored. You can learn more about the latest competitive rates and approval processes before making a decision.
With the help of a mortgage broker in Adelaide, buying a home will never be easier. Feeling confident about your home loan while gaining access to personalised advice and lenders can foster a tailored mortgage solution for your financial goals.
Explore our mortgage broking services to make your home-buying experience more personal and enjoyable. Contact us here to see how Lendstreet offers investment loans, first-home buyer loans, and refinancing loans based on one's financial position.
Lendstreet – South Australia's Go-To Mortgage Broker
High Success Rates for Adelaide Home Loans
Our mortgage brokers in Adelaide have high success rates due to their knowledge of the housing market, years of finance industry experience, and efficient processes in handling credit commitments.
Connection to a Wide Range of Lenders
Lendstreet has access to over 50 lenders and banks to provide top interest rates and loan terms based on your financial goals. We can match you with lenders best suited to your budget and home preferences.
Extensive Selection of Home Loan Products
Discover an extensive selection of home loans with Lendstreet. From buying your first home to learning about adjustable-rate mortgages (ARMs), you have all the advice you need when relying on our mortgage brokers.
Tap Into the Potential of Adelaide's Thriving Property Market
Adelaide hosts world-class experiences such as wine events, immersive festivals, and thriving restaurants with memorable flavours. This vibrant lifestyle attracts anyone looking for a fun environment, but it doesn't always come down to the visuals. For many years, Adelaide has experienced stable growth and affordable prices in the housing market, making it a priority on our mortgage list.
Since Adelaide has continued to grow, it remains the strongest market in Australia. Lendstreet monitors these changes to create mortgage plans that are relevant to the current properties, giving borrowers equal opportunities to grab their dream homes. With years of experience in South Australia, our mortgage brokers have in-depth knowledge of housing prices in Adelaide and surrounding areas.
Lendstreet spends careful time documenting property trends. This process allows us to choose the right mortgage broker for your needs, along with a personalised plan for finding financial solutions.
Choose Lendstreet for your mortgage needs in Adelaide. We hold some of the best mortgage brokers who can provide tailored advice, negotiate home loan terms with lenders, and handle the challenges of a loan application so you don't have to. Contact us now to experience the best finance and mortgage broking services that will earn you a warm, exciting home.
Come Visit Us in Adelaide
Frequently Asked Questions
Which home loan products can your mortgage brokers help me with in Adelaide?
For those seeking finance and mortgage broking services in Adelaide, we provide various home loan products to suit your financial situation. These comprise first-home buyer loans, investments, refinancing, guarantor loans, no & low deposit loans, and more. Lendstreet wants everyone to have the same chance at securing a loan that makes them financially comfortable and confident.
Do you have online services?
Yes, Lendstreet can speak with you online or in person. Contact us here to book an online appointment and discuss your mortgage goals. One of our mortgage brokers in the Adelaide office will get back to you with more details.
Can your mortgage brokers help me buy an investment property?
Lendstreet takes investment property seriously when giving you favourable options and the best property purchase terms. Our mortgage brokers can help you find and buy an investment property by matching you with a relevant lender. These professionals will provide detailed financial insights to ensure you're making well-informed decisions regarding projected ROI, home equity, self-managed super funds (SMSF), and more.
What are the key advantages of choosing a mortgage broker in Adelaide?
A good mortgage broker will guide you through the process of personal loans or making the right mortgage choice based on your budget.
Our team at Lendstreet understands the property market in Adelaide, which gives us better insight into current pricing and interest rates. With this knowledge, we can offer a personalised service to help you save money, avoid debt consolidation, and secure the best loan for your housing dreams.
What paperwork is required for a mortgage loan?
Before applying for a home loan, you might gather the following documents:
Proof of identification in the form of a valid passport, birth certificate, or driver's licence.
Income documentation, including recent payslips or yearly summaries, personal and/or business tax returns for the past two years at least, with any self-employed financial statements.
Declaration of additional expenses like bonuses, overtime, and freelance work.
Bank statements that offer proof of your savings.
Employment contracts, especially if you own a business or are self-employed.
Proof of any existing loans or debts, including personal loans, credit cards, student loans, or medical costs.
Current dependents like children, elderly family members, and anyone else you support financially.
The documents required for a mortgage loan depend on the lender and home. We can discuss more about paperwork in our first meeting call.
What kind of lenders does Lendstreet work with in Adelaide?
Lendstreet works with several reputable lenders in Adelaide. Some include HSBC, AFG, Westpac, Virgin Money, Adelaide Bank, and more. You can check out our lenders here or contact us to discover what home loan is best for your budget and long-term mortgage goals.
Can you help me get a home loan despite my low credit score?
While most banks and lenders favour borrowers with good credit scores, there are still other factors that may be considered in your home loan application. We will try our best to formulate a strategy, and we will reach out to our panel of lenders to find opportunities for you even though your credit score is low.
Why should I choose a mortgage broker over a traditional bank for my home loan?
Choosing Adelaide mortgage brokers ensures you get the best interest rates, terms, and loan products. Lendstreet not only gives clients competitive prices but also creates a personalised plan covering one's financial position. So, whether you're looking to buy your first home or use investment loans, talking to one of our mortgage brokers is the most efficient choice.
It's also important to note that we manage the paperwork and applications with the lender, saving you time and extra money.
What costs are associated with hiring a mortgage broker in Adelaide?
The cost of mortgage brokers in Adelaide depends on the home loan and mortgage broking process. Some brokers charge upfront fees covering processing and applications, while others require a lender-paid commission based on a percentage of the loan's overall value.
However, at Lendstreet, we do not charge clients any additional fees related to our financial solutions. For more information on costs, contact our professional team today to feel confident working with Lendstreet and securing your loan.
Choose from an extensive range of home loan options from our reputable lending partners.