Lendstreet Mortgage Brokers
Sydney Housing Report
Please find below this month's Lendstreet housing market update, presented by Lendstreet research director Michael Nasser.
Sydney is a great place to invest in property. Regularly named as one of the most liveable cities in the world, it is a place of strong economic growth, infrastructure developments, increasing population, and international connectivity.
From 1993 to 2018, house prices in Sydney increased by 412% and went through some extraordinary changes. Set to continue to expand and grow in value, property markets are in high demand. The capital gain of properties in the past few decades equates to an annual growth rate of 6.8% for houses and 5.9% for apartments.
This means that if properties are set to continue to grow at this rate, by 2040, house prices could be over $6,300,000 in Sydney. However, history shows us that housing markets go through cycles of growth and decline. Yet, if we rely on the data from the last twenty to thirty years, Sydney property values are set to boom.
The Sydney housing market update each month contains everything you need to know on Sydney dwelling values, housing trends, house rents prices and auction clearance rates. To help you understand our monthly updates, read our glossary of key terms, general explanations of housing values in Sydney, and the best Sydney suburbs to buy property.
Sydney Housing Report
May 2022
The latest market insights show that auction clearance rates for Sydney were 41.1% for May 2022.
Sydney Housing Report
April 2022
The median asking price for all houses in Sydney has been down by 7% since March 2022.
Sydney Housing Report
March 2022
The latest market insights show that auction clearance rates for Sydney were 51.2% for March 2022.
Sydney Housing Report
February 2022
The latest market insights show that auction clearance rates for Sydney were 59.9% for February 2022.
Sydney Housing Report
January 2022
The latest market insights show that auction clearance rates for Sydney were 40% for January 2022.
Sydney Housing Report
December 2021
The latest market insights show that auction clearance rates for Sydney were 49.4% for December 2021.
Sydney Housing Report
November 2021
The latest market insights show that auction clearance rates for Sydney were 55.6% for November 2021.
Sydney Housing Report
October 2021
The latest market insights show that auction clearance rates for Sydney were 61.2% for the week ending 31st October.
Table of Contents
1. Sydney House Prices
2. The Sydney Apartment Market
3. Sydney's Rental Market
4. Sydney's Housing Market: Policy Updates
5. Reasons to Invest in Sydney
5.1. Economy and Capital Growth
5.2. Sydney's Layout
5.3. Infrastructure
5.4. Growing Population
5.5. International Connectivity
5.6. Political Stability
5.7. A Great Place to Live In
6. Best Performing Areas in Sydney
7. Key Terms
8. FAQ
Sydney House Prices
Sydney house prices fluctuate, just like anywhere in the world. However, we are lucky that our city has remained fairly prosperous over time. Sydney houses are always in demand – in fact, Sydney and New South Wales are among the top-performing housing markets in Australia.
Across the last forty years, Sydney's property price growth has doubled each decade. They have been, on average, around three times higher than the median income for the last few decades. However, when house prices rise, first-time buyers and younger people lose out on affordable properties.
The Sydney Apartment Market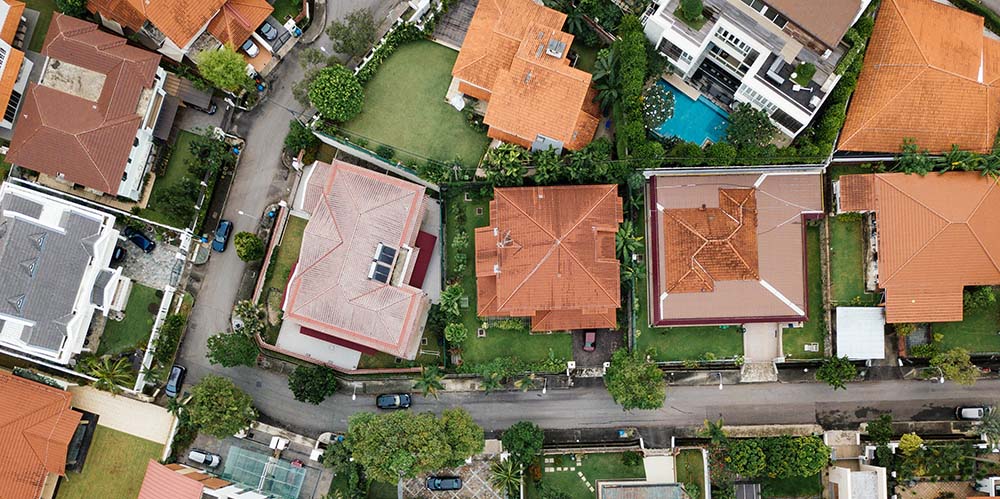 Typically, apartment and house prices rise and fall at relatively similar rates. However, in Sydney, we can see that the property market is often dictated by higher-end housing. With the more expensive properties so in demand, apartments and units often fall behind. However, this does usually make them a better option for the first time buyer.
Similarly, we often see patterns in downsizing. As Australians reach retirement or realise the value of their family home, it is not uncommon to sell up and move to apartment living.
Sydney's Rental Market
When property prices soar, the rental markets similarly increase in rental rates. As mortgage repayments for home buyers go up, weekly rental costs of Sydney houses also rocket. This impacts renters from being able to save to get on to the property ladder.
However, on the whole, rental prices are usually lower in Sydney than elsewhere on the globe. As investors can take advantage of negative gearing, rental prices are typically kept competitively low. The Sydney suburbs with the highest rental rates are usually Bronte, Collaroy and Lindfield.
Sydney's Housing Market: Policy Updates
Although the Australian government doesn't intervene regularly, policy updates impact the Australian housing market. 
Since 2000, housing affordability has been one of the biggest issues facing real estate investors in Sydney. The gap between house prices and the average income is one of the highest in the world. Many experts put the increase in house prices down to foreign investment and immigration.
Therefore, FIRB (Foreign Investment Review Board) has implemented restrictions on buying property in Australia from overseas. For example, foreign investors are only allowed to purchase property with FIRB approval, often only awarded if the investor plans to use the property to create more housing for Australians.
Similarly, negative gearing is often thought to be the reason behind high property prices. Negative gearing is the tactic of making a loss on a rental property to claim that loss back on tax.
Negative gearing makes property purchases hugely attractive for investors, and keeps rental prices down. However, it can lock out first-time buyers. So far, no policies have been introduced to restrict negative gearing.
Reasons To Invest In Sydney
Sydney is often a great place to invest in property- boasting incredible views, creative culture and excellent transport links, there are few better places to buy a home than in Sydney. Although the higher property prices can make the Sydney property market harder to break into, it is a sound investment.
So, whether you're currently living in Sydney and thinking of upsizing or downsizing, or a foreign investor hoping to break into the Sydney housing market, read on to learn why Sydney is the best capital city to buy property in.
From economic growth, a strong layout and innovative infrastructure, a growing population, international connections, political stability and a culturally great place to live, we'll run through the main reasons you should invest in the Sydney housing market.
Economy and Capital Growth
Sydney is well known as the financial and business services centre of Australia.
With professionals flooding in each year from around the globe, Sydney was ranked 11th on the index of financial centres in 2019 by the Global Financial Centres Index 25. Sydney was rated 736, up by two points from the previous survey. Sydney came in 9th for infrastructure and 11th for financial sector development.
Furthermore, the report labelled Sydney's economy as dynamic, leaning towards stability.
The Reserve Bank of Australia (RBA), Australian Prudential Regulation Authority (APRA) and the Australian Securities Exchange (ASX) all reside in Sydney.
The economy of New South Wales has similarly maintained a strong outlook over the years. The NSW economy has been one of the fastest-growing states as a result of household consumption, dwelling construction and public investment. 
Since April 2011, the construction industry and health services expansion has seen more than 500,000 new jobs created. Employment growth continues to remain strong.
As the capital city of NSW, Sydney is a promising property market to invest in. Plus, Sydney is home to some of the highest-earning individuals in Australia. Sydney is expected to be the home to over 1,000 millionaires by the mid-2020s.
With the increase in wealth, Sydney housing continues to grow. Property is considered to be the most desirable asset in Sydney. As an asset almost guaranteed to go up in value, property is highly sought after across Sydney. With a strong, dynamic, stable and growing economy, Sydney is the ultimate Australian city to invest in.
Sydney's Layout

As one of the largest cities in the world, Sydney is more than 1,730 square km, covering picturesque land from the sea to the Blue Mountains. Although globally renowned, the central business district (CBD) is relatively compact, allowing plenty of room for residential property, hospitality services and attractions.
Sydney's biggest attraction is the world-famous Sydney Opera House, on the harbourfront. Along the south side of the harbour are beautiful beaches, including Bondi beaches and affluent inner suburbs. With the right mix of financial, business and residential appeal, Sydney is a great city to invest in either to live or to rent a property.
Furthermore, there are plans to develop Sydney's layout in the forthcoming years. With such investment into Sydney's land use, transport and infrastructure, property investment is a wise decision.
However, current trends suggest that construction is beginning to slow in Sydney. This means that much of the newly built and recently developed property will have a chance to find their places in the market.
However, the NSW state government has stipulated that owing to population growth, 725,000 additional homes will be needed by 2036. Therefore, any construction lulls are sure to be short-lived.
It is predicted that Sydney might be home to an additional two million people by the mid-2030s. Suburbs such as Parramatta, Blacktown, Sydney City, Liverpool and The Hills are pegged to build new homes. A city with a strong layout, good investment, and rising housing prices, Sydney is an excellent candidate for property investment.
Infrastructure
The New South Wales government announced that it would spend $87 billion on health, education and transport infrastructure in Sydney to balance the cost of living at the start of the 2020s. Government investment is only expected to continue. 
With the influx of investment post-pandemic and a growing population, infrastructure projects are guaranteed to boom in Sydney over the next decade.
As the housing market develops, it is essential that infrastructure does too. Similarly, the growth in transport projects sees the average house price rise exponentially. Sydney's infrastructure is key to creating diverse and strong communities.
The Metro West (rail line between CBD and Parramatta), the Parramatta light rail, the Metro NorthWest, the Sydney Western Harbour Tunnel and Beaches Link, and the underground F6 motorway between Sydney and Wollongong are all infrastructure projects to keep an eye on.
Many of these projects are fuelled by foreign capital, encouraging investment from overseas and enhancing Sydney's flourishing economy.
Furthermore, infrastructure goes beyond adequate transport links. Sydney is currently seeing a boom in health services and education as well. With record investment and reform, schools across Sydney are thriving.
Similarly, Australia's health services are often proclaimed to be one of the world's best. With local and foreign investment, the NSW government aims to invest $500 million in eHealth initiatives.
Improvements in public services and transport links to the city centre help to boost housing trends and buyer demand.
Growing Population
A fast-growing population is largely to thank for the boom in housing development and increased Sydney property values. Each year, since 2011, Sydney's population growth trajectory has continued to rise. In 2011, the annual growth was at 1.2%; by June 2018, it was recorded at 1.8%.
The Australian Bureau of Statistics predicts that the population of Sydney will grow a further 1.6% each year to 2041. We might see a potential population of 15,599,631 by 2066. It will have the second-highest population of Australia's capital cities, with Melbourne set to overtake.
However, population growth suits property investors. The biggest reason for population growth in Sydney is immigration. Unlike an increased birth rate, which only sees long term potential, immigration population growth sees an immediate benefit for investors. Similarly, immigration creates foreign investment, which leads to greater international connectivity.
The more people there are, the more demand there is for properties. This, therefore, translates to a seller's market. The investors and sellers have the power to negotiate prices in their favour.
Similarly, demand pushes up the median value of rental properties. As fewer people are able to immediately buy, they turn to renting, which in turn suits rental property owners.
Often, a booming population goes hand in hand with improving industry and infrastructure developments. As we've already seen, investment in infrastructure is a significant factor of Sydney's current attractiveness to investors.
International Connectivity
Improvements in capacity at Sydney Airport soared in the last decade. Between 2009 and 2019, domestic visitors to Sydney increased by over 37% and international visitors by 60.6%. The majority of growth happened after 2015.
While a thriving tourism industry might not be the immediate answer to great property investment opportunities, international visitors help increase investment and job development in the capital city. Tourism is largely to thank for improvements in infrastructure and foreign investment into city projects.
However, it is not just tourism that benefits Sydney's property market. Immigration has boosted Sydney's population in recent years.
In 2020, Sydney saw the second-highest number of immigrants flock to its city; around 50,100 resettled in Sydney. Most immigrants to Australia are from England, India and China – countries with significant investment prospects.
Furthermore, international students play an essential part in property prices.
As a huge part of the rental market, international students help make Sydney property investments more viable. With a $40 billion education sector, Australia's rental market is most severely impacted by the behaviours of international students. For example, the coronavirus pandemic saw only 200 of the 121,000 enrolled students get back into the country.
This meant a massive loss of income for rental property investors. However, there is no evidence to suggest that the number of international students pouring into Sydney will slow. Between 2018 and 2019, international students increased by 10%.
Investing in rental property is promising with the growth of international students, immigration, and foreign investments.
Politically Stable
New South Wales is a politically stable and business-friendly state. Political reasons to invest in Sydney include
Economic and political stability
Regulations and limitations against corruption
Developing goods and services exports
A robust legal system
Business-friendly policies
Renowned intellectual property protections
A strong financial system
A Great Place To Live In
Finally, Sydney is recognised as being one of the greatest places to live in the world. Regularly topping the ranks for the most liveable city, Sydney has desirable socio-economic conditions.
In 2018, Knight Frank ranked Sydney fifth most liveable city in the world based on stability, infrastructure, education, health care and environment. The Global Liveability Index of 2019 ranked Sydney third in the world. In 2021, Sydney came 11th.
With thousands flocking into Sydney every year, infrastructure improvements, the housing market, education, health services, tourism, and jobs, Sydney is not only a great place to live but a promising property investment.
Best Performing Areas in Sydney
So you want to know the best performing Sydney suburbs on the housing market for capital growth? While the Australian property market fluctuates, these ten Sydney suburbs are guaranteed to offer price growth and rental opportunities.
Bardwell Park
Located near the central business district, there is easy access to the eastern suburbs, inner west, WestConnex, and Sydney Airport. In 2020, the median house price rose by almost $400,000. It is a high demand suburb. Home to mostly owner-occupiers, older couples and families, it is a promising residential area of Sydney.
Blacktown
In the west of the city, Blacktown sees both owner-occupiers and investors. Between 2013 and 2018, property values saw double-digit growth and have remained steady ever since. The area is set to see funding in the upcoming years, making it a promising investment opportunity as property values are guaranteed to rise.
Narrabeen
A beachside suburb for young professionals and families, it is one of the suburbs in highest demand and has seen exponential price growth over the years. Apartment investments do particularly well in Narrabeen.
Badgerys Creek
Near the West Sydney Airport, Badgerys Creek benefits immensely from new infrastructure and high demand. Although there is little available on the Sydney real estate market in Badgerys Creek, any purchases in this area are sure to be prosperous in the coming years.
Windsor
Although a bit out of the way, with an hour commute to the CBD, Windsor is a historic and beautiful suburb. Local infrastructure improvements are making this suburb a far more attractive prospect for investors and renters alike.
Cherrybrook
A consistently growing suburb, Cherrybrook is a stable and promising investment in the Sydney property market. Mainly residence to older, established families, the suburb is set to continue to go up in price.
Avalon Beach
To the north of the CBD, with strong price growth and new developments in the area, Avalon Beach is a good investment choice.
Miranda
Popular owing to its beaches and rivers, Miranda is a suburb with continuous population growth and developments in apartments and units.
Mount Druitt
Similarly, Mount Druitt might be a good place for rental investment with affordable units and newly developed infrastructure, or for the first time buyer to get on the property ladder.
Beacon Hill
Finally, Beacon Hill in the Northern Beaches has a booming rental market. With planned infrastructure and transport projects in the works, Beacon Hill is a high demand suburb for renters.
Key Terms
Throughout our monthly reports, you might see some important terms that you're not too sure of the meaning. Read through our quick glossary to get an understanding of these key terms.
APRA – also known as the Australian Prudential Regulation Authority; it is a government body that supervises insurance, banking and financial institutions.
Appreciation – simply the increase in value of an asset or investment over time. A property might appreciate in value.
ASIC – also known as the Australian Securities and Investments Commission, similarly regulates financial institutions and enforces regulations and laws to protect Australian consumers, creditors and investors.
Asking Price – the initial price of the property, usually about 10% higher than the actual selling price, unless the property is in high demand. It can be negotiated or is set at a fixed value.
Auction – the selling of a property through competitive bidding and sold to the highest bidder. It is usually public, although there are some private auctions.
Auction Clearance Rate – the percentage of properties sold at auction in one week, or month. To calculate the rate, divide the total number of auctioned properties sold by the total number listed at auction.
Body Corporate – the group or manager of an apartment building or unit.
Buyer's Market – the situation where buyers have an advantage over sellers in regards to negotiating price. When supply is greater than demand, the buyers are in control of the market. Thus, a buyer's market occurs.
Commercial Property – refers to a dwelling where the primary purpose is to generate profit or conduct business rather than residential use.
Deposit – down payment buyers put down on a house to secure a mortgage. Typically, deposits are around 20% of the property's value.
Depreciation – the decrease in the value of an asset or investment over time. Properties can depreciate in value.
Gearing – the strategy of leveraging debt to purchase an asset.
Hammer Price – the winning bid at auction. Named so for the auctioneer's hammer falling, it sets the selling price (but does not necessarily include extra fees).
House Price Bubble – a type of bubble that occasionally occurs in real estate markets (both globally or locally) and follows a rapid increase in property prices until they reach unmanageable prices.
Investment Property – the purchase of real estate for a profit, e.g. by selling or renting.
Listing – the properties on sale.
Market Price – the selling value of the property as dictated by the behaviour of the market.
Residential Property – a dwelling primarily used for living in.
Seller's Market – the opposite to a buyer's market, a seller's market is where demand outcompetes supply, and the sellers have the power to dictate prices.
Vacancy Rate – the percentage of vacant rental homes. This is often suggestive of the economy as a whole.
FAQ
Now, we'll share some commonly asked questions about the housing market update.
Are house prices going to drop in Sydney?
Sydney has had a history of property price growth over the last forty years. While the housing market might stabilise at times and even drop from year to year, it is unlikely the house prices will see a significant and sustained decline soon.
Is it a good time to buy property in Sydney?
As property values continue to rise in Sydney, it is always best to invest before they go up further. With improvement plans for infrastructure and public services, Sydney is a desirable place to live. If you're interested in getting into the Australian housing market, pay attention to our updates and Sydney property values to know when is the right time to buy property.
Is the Sydney property market cooling?
While the median house value saw a record price growth in 2020, housing trends suggest that large booms are often followed by stabilising or crashes. It seems more likely that the property market will cool rather than crash to a stable rate of growth.
Ask us anything regarding home loans.
Leave your details below and we'll be in touch right away to help you with your mortgage needs.
"*" indicates required fields
[logoshowcase loop="true" dots="false" arrows="false" slides_column="7″]