It may not surprise many of us anymore but it seems that we are still in for a few more cash rate hikes. This is what has been forecasted in Westpac's latest weekly report.
The cash rate is currently sitting at 3.35%, and according to the bank, we could expect another cash rate hike next month, then again in April, and then again in May. Westpac says the cash rate could reach 4.1% by mid-year before it stagnates. This is a nod to NAB's own report released just two weeks ago.
The big banks' leading economists tell us that, at this point, we still cannot afford rate cuts due to inflation not yet moderating. The continuous hikes made by the RBA are an aggressive effort to curb inflation, which hit 7.8% in December – a peak not seen in Australia since 1990.
With the three more expected cash rate hikes in the following months, a loan amounting to $500,000 and on variable rate, could expect around $227 increase in monthly repayments – almost a 50% increase in just over a year.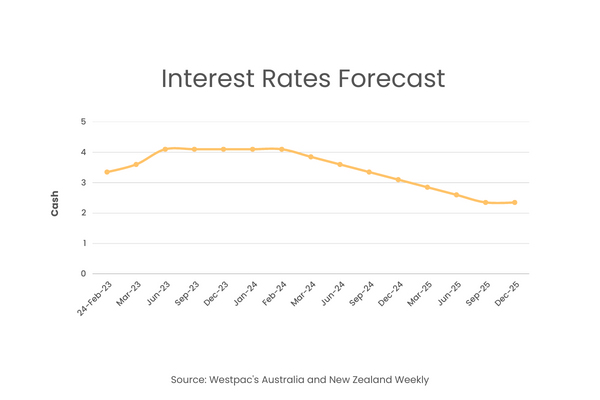 Meanwhile, Westpac's report is also showing some glimmer of hope. In the table below, we see that they've forecasted for the rate to plateau at 4.1% by June this year. This rate will continue until early 2024. Then by March of the same year, Westpac predicts the start of multiple rate cuts.
What are your thoughts about these forecasts?
If you have comments or questions, you may send them here.
May I also share with you other helpful blogs that could shed more light on this very talked-about topic:
Thank you very much for spending time to read this commentary.
Related articles
Amidst all the buzz about the cash rate and refinancing, another important topic deserves our attention: the Home Guarantee ...

Last Tuesday, 1st of August, the RBA kept the cash rate target steady at 4.10 per cent for the ...

According to CoreLogic data, rents have risen a record-breaking 22.2% since September 2020. While tight vacancy rates continue to grip ...