Buying a new home is a costly venture. Deciding on your mortgage is one of the most significant decisions of your life. It's probably one of the most considerable sums you will pay throughout your life. On top of the home loan, you'll be expected to pay valuation fees, solicitors, and insurance.
Approaching a mortgage broker can help take some of the stress out of the entire process. However, there is plenty of misinformation and misunderstanding about what a mortgage broker does. We'll answer all your frequently asked questions so that you can more confidently get the best loan for your situation.
What Does a Mortgage Broker Usually Do?
A mortgage broker is a middleman between the borrower and the lender. They work under an Australian credit licence, putting your best interests first. Good mortgage brokers assess your situation and offer a range of competitive products.
There are two types: 'whole of market' and panel of lenders brokers. The former is not tied to anyone specific but can approach many different lenders. Brokers with a panel can only offer you home loans from those lenders but at better rates.
Is It Worth It to Use a Mortgage Broker?
Mortgage brokers can save you time and fees on your home loan. As brokers are industry experts, they can connect you with a suitable lender. Their expert advice will help you decide which loan options are the best investment strategy.
Plus, they can recommend local solicitors or real estate agents to help with other aspects. For example, if you speak to a mortgage broker in Sydney, they can put you in touch with other local professionals.
How Do Mortgage Brokers Rip You Off?
It's essential to check that your broker has an Australian credit licence. This ensures that they are professional and legal. Therefore, you're unlikely to get a poor deal. As an additional security measure, check if they are part of the Mortgage and Finance Association. This ensures that your broker is reliable.
Mortgage brokers in Australia are bound by the best interest duty. This means that they have to work in your interest to secure you the best deal they can.
When Should You See a Mortgage Broker?
It's never too early to speak to a mortgage broker. A good broker will help you establish your borrowing capacity so that you know what loan products are available. Therefore, you will be in a better position to house hunt. This will save a lot of time in the long run. The sooner you begin the application process and receive a written quote, the sooner you will be able to buy your property investment.
How Much Commission Does a Mortgage Broker Get?
The lenders pay most mortgage brokers on commission. They can offer a free service to the borrower. The commission varies. Usually, it is a percentage of the loan amount.
Other mortgage brokers might charge for their services. However, Lendstreet offers expert advice on home loans at no cost to you. First home buyers, property investors, self-employed, and refinancing can all book a free appointment to begin your journey to getting the right loan.
Is It Better to Use a Mortgage Broker or Bank?
If you're dealing directly with banks, they will offer higher interest rates with the expectation that you won't negotiate. While you are free to fight for lower comparison rates, many borrowers do not have the expertise or confidence to seek competitive options. Plus, you might not be aware of 'nice to haves' and other additional home loan features.
A mortgage broker will save thousands on interest rates and find the right solution.
Do Mortgage Brokers Charge a Fee?
Here at Lendstreet, our mortgage brokers don't charge you for our services. You can get access to our stress-free assistance to find a better deal for your mortgage. Home buying is expensive enough without paying additional money to a broker.
Even if your broker charges for their advice, they will likely have saved you thousands on your home loan. Therefore, even if you do pay, it will be more than worth it.
Can a Mortgage Broker Get You a Bigger Mortgage?
Normally, the only way to get a bigger mortgage is by lowering your LVR. An LVR above 80% will result in Lenders Mortgage Insurance.
Brokers have close relationships with lenders. If your borrowing power is lower than required for the loan amount you want, speak to your broker. They will know which lenders will be amenable to your situation and find a particular product that works. They also know how to frame your application to look desirable to the lender.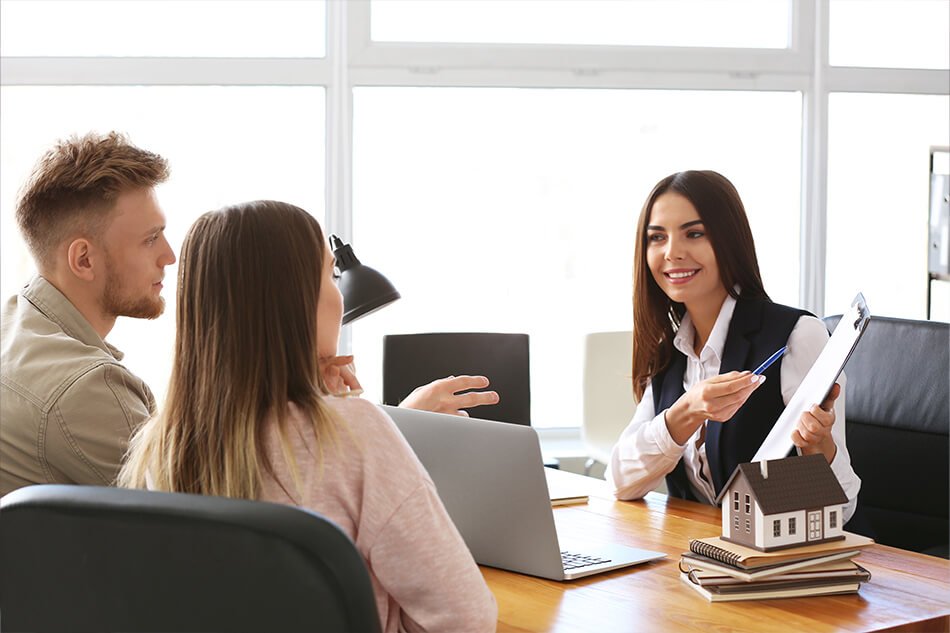 What Is a Mortgage Broker?
A mortgage broker is an intermediary between banks and borrowers. They might work with an individual or a business to secure a suitable home loan. They'll negotiate with the lender on your behalf to get better loan terms, interest rates, and extra facilities.
If you're in a slightly unusual situation (e.g. poor credit history or self-employed), the broker will be able to find lending solutions that you might be unable to source on your own.
What Do Mortgage Brokers Do?
The mortgage broker will gather information about the home buyers and their financial situation before approaching a range of lenders with the application. They will then negotiate in your best interests to get better rates and terms. They also offer advice and explain industry jargon to first home buyers.
For example, they would break down the different comparison rates and what they mean.
How Do Mortgage Brokers Get Paid?
Mortgage brokers usually get paid by the lender once they have negotiated a loan between them and the borrower. Their commission is typically around 0.35% of the loan amount. However, you know that you can trust your Sydney mortgage broker as they are bound by the best interests duty.
This means that they have to put your needs and mortgage choice before their chance to get paid.
What Questions Will a Mortgage Advisor Ask Me?
Your mortgage broker will need to understand your position before they can find the right loan. Therefore, they might ask some of the following questions.
Have you had a mortgage before?
What is your income?
How long have you been in this role?
How much deposit do you have?
What type of property do you want to buy, and where is its location?
What other debts do you have?
It's sensible to be transparent so they can act appropriately.
What Do I Need to Take to a Mortgage Broker Appointment?
Your mortgage broker will want to see proof of identity, proof of address, and bank statements. Depending on your situation, they might also ask for further documents.
Do Mortgage Brokers Look at Bank Statements?
Most brokers will need to see at least three months' worth of bank statements. Although, some might request to see up to six months. This is usually to establish proof of income and the ability to save. Some brokers might also want to check where your deposit is coming from, as not all lenders accept gifted deposits.
It'll also give them an idea of your spending habits and expenses so that they can find a home loan within your ability to repay.
Will a Mortgage Broker Do a Credit Check?
Some brokers will run a credit check; however, it'll only be with your permission. This is usually a soft check, so it shouldn't affect your credit score. Usually, the check is to find out your income source, any debts, number of dependents, and age.
What Does a Mortgage Broker Look For?
To find you the best possible deal, the mortgage broker will want a clear idea of your situation. Make sure that your documents and other information are organised, ready for your broker.
They will also look at other recent applications for credit. These applications might result in hard credit checks that disadvantage you and make you look risky to the lender. They'll also look at your credit history, other debts, and whether you have any dispute settlements.
Does a Broker Just Help Me Get to Settlement or Do They Provide an Ongoing Service?
Lendstreet will do more than just help you find the right lender and loan product. We'll also provide ongoing advice and services throughout the lifetime of your loan at no extra charge. We will be with you to answer any questions you might have now or in the future. If you should choose to refinance at some point, we will also be able to assist.
How Much Do I Need to Save for a Deposit?
The bigger your deposit, the less money you will need to borrow. A Loan to Value Ratio of lower than 80% will often get you better rates.
You can get a mortgage with a deposit of just 5%. However, in such a case, you would need to pay Lender's Mortgage Insurance which can add up to quite a costly extra. Although, it might be a good option for first-time buyers as it helps you get on the property ladder.
What Can a Mortgage Broker Help Me With?
A mortgage broker can help you secure a loan with better terms. These might include a shorter loan term, lower interest rates, a higher loan amount, reduced fees, or added features like an offset account or redraw facility.
They will search the market to connect you with the right loan to suit your budget. They will also negotiate the loan terms on your behalf to secure better rates. Plus, good brokers offer ongoing mortgage advice throughout the loan term.
What Does a Mortgage Broker Check?
A mortgage broker will check most of the same things as the lender will when you apply for your home loan. The broker wants to make sure that they can find a home loan option suitable for your financial situation. They might run a soft credit check on you. However, they won't do this without your permission.
They're likely to check your personal and financial information too. They want to make sure that you have an overall positive credit history.
What Information Do I Need to Provide for a Mortgage Broker?
You will need to share proof of identity, address, your income, and other financial details. The broker will need to see how much you have saved for your deposit and where this money is sourced from. You can usually evidence this with bank statements.
You will also need to share other debts you may have so that they can assess your loan approval chances.
How Can I Get a Mortgage Broker?
You can find a mortgage broker by searching online for "Sydney mortgage broker". It's best to find a local broker as they will have a better understanding of the area you wish to move to. They might be able to provide recommendations about the local housing market, solicitors, and real estate agents.
You can get in touch with Lendstreet's mortgage brokers easily online or via phone. One of our experts will be happy to guide you through the application process.
Why Get a Mortgage Broker?
Mortgage brokers can often get better discounts on rates than if you were to directly approach the lender. This means that you will have greater access to lower mortgage rates and are more likely to settle for a suitable product. The broker will also offer expert advice about which loan choice you should go for and how to make smart financial decisions.
Schedule a call to one of our expert mortgage broker
Ask our expert mortgage brokers anything about home loans.
Related articles
If you're living in Australia and currently deciding whether to take out a home loan, it's essential to understand ...

Key Takeaways: Lenders inform credit bureaus of your lending and repayments activities. Different credit reporting bureaus use different scale boundaries. ...

Did you know that it is often cheaper to build a house on vacant land, rather than buy established properties? ...